Jennifer George, CPA, MAC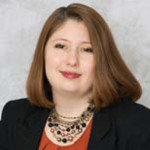 Jennifer George is an instructor for the AuditSense team and specializes in providing Audit and Accounting Updates to CPA firms. Jennifer has over 15 years of public accounting experience providing accounting and auditing services for private companies, governmental entities and not‐for‐profit organizations.
Jennifer is the quality control partner for a regional accounting firm and is primarily focused on A&A quality control and technical research. Jennifer also provides internal control and efficiency consulting services, teaches A&A and communication courses, and is a peer reviewer.
Jennifer is actively involved in the New York State Society of CPAs (NYSSCPA) and American Institute of CPAs (AICPA), as well as other community and professional organizations.
Current and Former Professional and Community Affiliations:
NYSSCPA – Vice President of Professional Issues, Statewide Board of Directors, Peer Review Committee, Advisor for Statewide Young CPAs Committee, Financial Accounting Standards Committee
AICPA – Council Member
AICPA National A&A Technical Symposium – Frequent Presenter, Planning Committee Member
Foundation for Accounting Education – Board of Trustees, Curriculum Committee
Mid Hudson Chapter of the NYSSCPA – President, Treasurer and Chair of Young CPA Committee
United Way of Dutchess/Orange – Community Impact Committee & Financial Stability Council
McGladrey Alliance – Small Audit Committee
Jennifer graduated from the University of North Carolina at Chapel Hill with a masters of accounting and a bachelor of business administration, and is a Certified Public Accountant licensed to practice in New York and New Jersey. Jennifer and her husband, Shawn, have one daughter and live in upstate New York.